Blob
Burgundy and Silver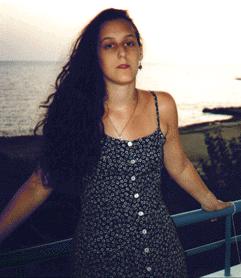 I am Blob, not The Blob (sci-fi, crap) or any relation to Mr Blobby (Noel Edmonds, very crap) but Blob. I am also known as Genia or Gen (like gun with an e). I have a strong belief, well, lots of em actually, get's me into trouble a lot, but esepecially in the fact that us techno-embracing women should keep up contacts, because it is too easy to become isolated. I am generally fairly self-confident or can at least put up a good front. I was recently described as a "power woman" and i want to know when i get the uniform *grin*. I am also known for being generally bouncy, lots of energy, a good listener and easy to get on with (also, according to a certain bloke who shall remain nameless, a meanie).
At the moment, I am studying Computer Systems Engineering with Electronics *phew* at Kings College, London, I was born and grew up in London too - liked it so much, I decided to stay here. It is a hard course, a lot harder than any other course I have come across, but it's probably worth all the stress because I am more likely to get a good job and be able to support myself well at the end of it. I got into it mainly because I liked maths (especially algebra) at school and wanted to do summink useful rather than abstract theory. I get on very well with my parents (mum, dad, step father), tho i feel that they are ppl who make their own mistakes (a fair few at that) and this is important in my life - i get on well with my brother (who lets me in cheap to the nightclubs he runs in London) tho this has only been the case since we became adults (yuk).
The thingz that are most important to me are: Striving for a better life, country and world, my family, my friends, good music (indie, some trancey-dance, a little alternative rock), star trek (YAY), chocolate (especially at CERTAIN times of the month), sex (of course) and many many HUGZ to me and everyone around me. :)
Pet hates are: Baked beanz (satan's food), apathetic ppl, or those who don't care about change, prejudice, winter, and exams.
You can send Blob some email, but she hasn't got a homepage :(


© The Harem, 1996-99.
Page created (none). Last updated: 19 July, 1999
Page created and site maintained by Rillaith, rillaith@harem.org.