Armadillos are such fabulous creatures (and such is my minor obsession) that they had to have a seperate page. Which now, of course, needs lots more information and rubbish on! Well, here's some for now...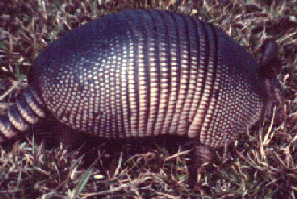 I just have to mention Dillo's here.. That's dee-aye-double-ell-oh, you filthy minded person, you!!
Dillo's are soft an fwuffy an cute.. at least my one is, although I admit not all of them are... Crunchy on the outside and soft on the inside, and having a penchant for Dime Bars is the usual description. They seem to be something of a spod thing, along with fluffy Cthulu's and goodness only knows what else..
Anyway, here's a few choice 'dillo links...

Page created by Sally Martin (aka Rillaith), rillaith@harem.org.
Last updated: 15 September, 1999