NB: Some photo links are missing, as although they have been scanned, I still haven't gone through them yet.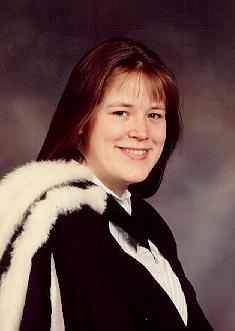 Graduation day was, for me, the culmination of three years of my three years of University life. They've been full of fun and laughter, some tears along the way, some fairly heavy doses of stress, work and exams, but I have enjoyed them immensly. I hope to be able to keep in touch with all my friends in the years to come, but whatever happens, I have many a fond memory to warm my heart in my doddering years *laugh*
Saturday morning found me up bright and early, and nipping into town to collect my hood. Several rounds of photographs followed, before we managed to get our lunch, and the rest of the time was spent playing with the fur trimmings on the hood. Mine was a very old one, with real fur, so it's was particularly soft and strokeable!
Group photograph of all the Graduands from Fitzwilliam College.
Me, my parents, and Marcus.
Lunch was a beautiful buffet laid on by College for us and our guests. Once we had had plenty of time to settle or nerves (if not our stomachs) with plenty of wine and coffee, the graduands (those who have finished their degree course but are yet to receive their degree) were then taken off for instruction on what would happen during the actual degree ceremony. Meanwhile, our families were left to their own devices, whether to stay and walk down with us, or to head off to Senate House early to be in line for a better seat, was left up to them.

After much milling around, the Senior Tutor finally managed to get us into order: first those who were receiving a Masters of Law degree, then the MEng, and MSci people. Behind these few were the rest of the year, since we all receive a BA (Cantab) with little distinction between subjects!. Four abreast, and in alphabetical order, in full academical dress, we stood waiting to head off into town, peering fearfully at the few grey clouds starting to appear. Soon, sure enough, we start walking off crocodile fashion, with each row split so we're now in pairs (We were sure they were going to ask us to hold hands next!). It takes about half an hour to walk from Fitzwilliam College to Senate House, and we must have held up the three roads we crossed for 5 minutes or more each! Several families walked along with, or ahead, or behind us, several of whom were weilding video cameras, trying to record the entire trip down.

We finally arrived and waited outside Trinity Hall, since we were early, before being marched through the Old Schools buildings onto the lawn outside Senate House. Up to the main doors we go, and inside we get arranged in several rows, in our order. I ended up at the front of my row, so I had a rather good view. As we look around, however, we start geting concerned, since we don't recognise any parents. Once we're all in, the reason for this becomes apparent, as the Vice Chancellor's representative and his entourage are about to leave. When they have processed out, the parents scatter off to go pat their offspring on the back. Our families are in turn allowed in.

Once everyone has settled down, the Vice Chancelor himself (not a deputy for us, it seems!) comes in, with his little procession, and then disappears.. when he reappears from the back of the hall, he is smothered in a very heavy red gown, floor length, and trimmed with more white fur. Finally we get down to the business! First of all, our Praelector introduces us all with a little speech, and then they take the first column forward down the aisle. He introduces them (in a general sort of manner) and promises to the university that they are worthy to be admitted to the degree. One by one, they kneel, and have the degree conferred upon them.

Once it is my turn, our little row of four reach the front. We each have to take a finger of the Praelector, and he says (still all in latin) that he makes "the same promise to you about these people also". Still, you can't blame them, we would have been there for hours had they had to say the entire speech each time! Since I'm first on our row, my name is called out, and I get to kneel in front of the Vice Chancellor, with my hands held out in front of me as though I'm praying. He says something in Latin, which roughly means "And I also grant you the same degree." And thats's it. Done. Finito. I've just graduated. It was over in what seems to have been a matter of seconds! I stand up, bow my head, and disappear out of the side door.. remembering the warnings I'd heard about the hidden step. I get given a certificate as I leave the building, and outside on the steps are the Senior Tutor and the Master of the College, who are busy congratulating the new graduates. One by one we all file out of the hall, and back onto the lawn again, where we mill around waiting for them to finish in there.
The only photograph allowed in Senate House - the degree being confered.
The certificate. Pity it's such a relatively well to do university, and yet they make us pay 25 pounds for a nice one, but ho hum!
The new graduates!
When we got back to college, we had a nice tea waiting for us, with loads of strawberries, cakes, profiteroles, and goodness only knows what else. The photos taken in college earlier were ready to be looked at and ordered, and everyone got to natter before people started leaving for good. The rain had held off for all the important parts (ie all the time we were outside!) and it had been an absolutely lovely day, all round.


Page created by Sally Martin (aka Rillaith), rillaith@harem.org.
Last updated: 15 September, 1999