Kelli
Sky Blue and Ultimate Violet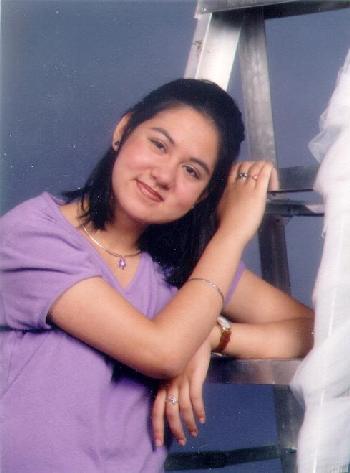 Kelli, the youngest of the Haremites, enjoys the gentle respite of the quieter side of Canada.... Ok so she's a pretty good liar too *grin* or actress, as she would much rather be referred to. Actually, Rochelle/Kelli hates being stuck at home with nothing to do and loves to go out in Downtown Montreal and stay out half the night. That's true.

Currently studying Social Economics at a French lycee (bleh. Apparently it provides you with a good education... I say we'll see about that...) her main interests in life are:
friends (love my friends, love 'em),
guys,
reading good novels (ie: To Kill a Mockingbird, by Harper Lee),
acting (Mucho!),
singing (The hiiiiills are alive...ahem...),
writing (short stories and poems, as well as letters to friends all round this big old place - ie the world),
dancing....
Very energetic and *very* talkative, this eurasian (Chinese mother and French father) member of the Harem is creative and lovable (and may all who disagree be advised that she's also very good at smacking *evil grin*) and doing her best to get through adolescence relatively unscathed.
You can send Kelli some email but she hasn't got a homepage :(


© The Harem, 1996-99.
Page created (none). Last updated: 19 July, 1999
Page created and site maintained by Rillaith, rillaith@harem.org.