Rillaith's Graphics and Icons

This is a collection of all the graphics and icons I have created in the last two years, which are not part of one of my websites. It's the easiest way to pull the whole lot together - everything else can be seen by following the links from my website portfolio.
My icons
These are the icons designed for this site, not all of which have yet been used.





















Banners and ...

Discworld.org.uk

I've been well pleased by how well this banner worked, and it has been coo-ed over by several people. This is a Good Thing.

Banners for my Freebie site

I wanted to promote my Freebies page in order to generate referals so I created these banners.

Free-Banners.com

Free-banners.com give away extra credits for banners which they use, so I created these. The largest was unfortunately too big for their competition, although it's a lot smoother than the reduced ones.

... Buttons

Discworld.org.uk

Apart from the lovely banner, I made 4 buttons.. two animated, two plain. The animated buttons are pretty tacky, but nevermind!

Free-Banners.com

Free-banners have been running a much bigger competition for a new "Hits button" image. The current image they use isn't the most pleasant I've ever seen, and I include it as a comparison!

Currently:
Backgrounds and Other Things
Winamp Icicles Skin
I found a lovely soothing skin for winamp called Icicles, but it only had a skin for the main part. I have extended it to cover the whole of the latest winamp - Equalizer, Playlist and minibrowser. The few people I have pointed it at have been impressed :) A screen shot is available on the Icicles download page.
Cool Beans Award
My dear friend Kira sent me a photo of coffee beans and asked me for a background for her award site Cool Beans. This is what I did:

Setoff
Back when Setoff were an awards site they had some really pretty nasty award images, so I knocked up a set of images for each of their three categories. This was the one which the Harem site one.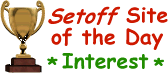 Page created by Sally Martin (aka Rillaith), rillaith@harem.org.