The Harem: An Amazon.com Associate.
The Harem's Library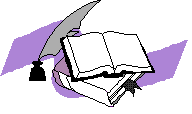 AmaRae's Favourites
The Darkover novels, esp. Gryphon series and Hawkmistress by Marion Zimmer Bradley
Witchworld novels and tales by Andre Norton
The Heir to the Empire trilogy by Timothy Zahn
Xanth series by Piers Anthony
Anything, esp. Wizard of Earthsea books by Ursula LeGuin
Anything, esp. Dragonriders of Pern, Crystal Singer books (oh, and The Rowan etc series) by Anne McCaffrey
Spock's World (and other trekkie books) by Diane Duane
The Eagle and the Nightengales (among others) by Mercedes Lackey
Lord Valentine's Castle by Robert Silverberg
Most anything by Jo Clayton
Snow Crash, author can't think of, wonderful wonderful book
Lord of the Rings triology and The Hobbit by Tolkein
Anything at all by David Eddings, they're all wunderschon
Anything, esp. Tuesday Night Club Murders by Agatha Christie
Anything, esp. his comedies and King Lear (most moving tragedy) by Shakespeare
Lysistrata *grin* by Aristophanes,
Jane Eyre (of course!) by umm.. erm.. whashername
Most anything (except Wuthering Heights, eeewww!), esp. Pride and Prejudice by Bronte sisters
A Lantern in Her Hand, can't think of the author..
A Wrinkle in Time and the rest of the series by Madeline L'Engle
1984 by George Orwell (seconding someone's vote)
The Peanuts Books by Charles M. Schulz
Lizard Music, can't think of the author.. *sigh*
Sir Gawain and the Green Knight, author unknown (to anyone *grin*)
Most anything by Edgar Allen Poe
And I always recommend poetry, whatever era person and type..and to list my favourites would waste a lot of space and time... One name, though, I want to mention, Maya Angelou, who's poetry is always worth a read, tho her books aren't what I'd always recommend..
---
© The Harem 1997. Last updated: 21 April, 1998
Library originally compiled by Yfandes, Yfandes@snip.net.
Pages updated and site maintained by Rillaith, rillaith@harem.org